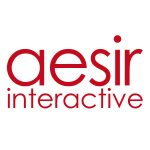 Webseite Aesir Interactive GmbH
ABOUT THE COMPANY:
Located in Munich, Germany, Aesir Interactive offers a fun, focused and casual atmosphere while developing several games for PC, PlayStation, Xbox, Switch and VR as well as non-game/ software and VR/ MR applications for PC and Linux. At Aesir, we believe in people and our team and want to advance your skills and knowledge together with us.
As a Senior Game Designer, you will be responsible for developing game systems, controls and interfaces, as well as forming and driving the creative vision of upcoming game projects together with the Creative Director.
THE KIND OF STUFF YOU'LL BE DOING:
Take ownership of major game system from concept over implementation and iteration to final polish
Create and document feature designs (incl. UI mock ups)
Communicate and champion your designs within the development team
Supporting the feature implementation as responsible designer
Balance economy and progression features
Evaluate, iterate and tweak game features to highest quality standards
Form new game concepts together with the Creative Director
Mentor fellow designers and review their designs
WHO ARE WE LOOKING FOR:
Shipped at least 1 game from start to finish
A minimum of 4 years working within the game industry
Worked on a wide variety of genres and platforms
Highly proficient in designing game systems
Experience in game balancing in Excel
Capable of working with little to no direct supervision
Passion for creating fun and compelling user experiences within set constraints
Good time management skills and problem-solving attitude
Excellent leadership, communication and organizational skills
Good understanding of the games market and current trends
THE IDEAL CANDIDATE ALSO HAS:
Design experience on Open World and/or VR games
Scripting or programming experience
Worked with Unreal Engine or Unity Engine before
Experience in leading and mentoring design teams
Experience in utilizing JIRA task management
WHAT WE OFFER:
A great motivated, passionate and ambitious team (40 people in Munich)
The chance to truly drive and impact the design of a game
Competitive salary and benefit package
Library with books, movies, series and of course games
A weekly fresh organic fruit basket, free drinks, coffee, milk and tea
A modern and unique office located 5 minutes to the central station
Company-based events for knowledge transfer, fun and recreation
Relocation support, package service, train ticket and food subsidy
Please refer to this job advertisement in your application.
Aesir Interactive is part pf the rcp family.