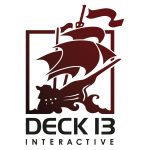 Webseite Deck13 Interactive GmbH
ASSOCIATE PRODUCER (M/F)
Start date: immediately

You are:
A gamer: you love games and take play seriously, and that'll help you make player-focused decisions every day.
A problem solver: you take deep pride in the work of the Deck13 team, view each new problem as an opportunity for success and work toward prioritizing and breaking down the steps to solutions.
A team player: while you're a great self-manager, your natural verve makes you thrive as part of a team.
An Icebreaker: you provide meaningful and constructive criticism and remain cool, calm and collected in crisis.
You will:
Be part of the Deck13 production team.
Channel and support communication between departments. This includes the hosting of meetings, establishing of workflows and change management processes.
Create, control and manage tasks in order to ensure timely milestone deliveries.
Communicate and visualize the project goals and status to the team.
Your specs:
Experience in the field of game production.
Proficient in spoken and written English.
Knowledge in usage and administration of issue tracking tools, e.g. Atlassian Jira.
Understanding of agile development methods are a plus.