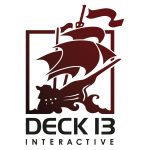 Webseite Deck13 Interactive GmbH
INTERSHIPS AT DECK13
For internships please note: We can only assign internships to students AND if the internship is required by the students university (minimum mandatory time period 18 weeks). Please provide us with the exact period of time and information that it is required by your university (Praktikumsordnung).
INTERNSHIP MARKETING ASSISTANT (M/F)
Start date: immediately

You are:
A passionate gamer. You understand games, you play the latest games, you breathe games, you know the news and the rumors
Looking behind the scenes. You know what game developmemt and production is about and you are keen to expand your knowledge
Good in communicating and familiar with a variety of social media channels. You know how to handle emotional fans without losing temper
Self-managing. You can set up plans and schedules for yourself and others and if you feel that a given goal is unclear or unrealistic, you look for a solution.
A team player: You like working with others towards a common goal. Achieving results is what matters most to you, not who gets the credit. You inspire your colleagues with new, disruptive ideas
Fluent in English, both in writing and in speaking
You will:
Learn the 1×1 of selecting, releasing, and marketing games titles. In short, understand how games publishing works
Perform online research and analysis regarding communities, trends and games performance measurement
Work together with game developer teams, test their games and give feedback
Become a part of Deck13 and expand our communication with our customers, fans, and partners
Help improving the workflow and strategies if the department
If this is you, we'll be most happy to receive your CV and work samples. Attachments should not exceed 4MB in total.
Please refer to this job advertisement in your application.