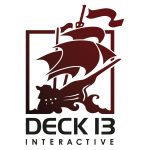 Webseite Deck13 Interactive GmbH
QA TESTER (M/F/D)
Start date: immediately

You are:
A gamer: You know one key to mastering gameplay mechanics is playing games. A lot. You love it.
Adaptable: You are able to rapidly change direction when priorities shift, staying focused on the most relevant project and evolving to get it done
Thorough: Chasing bugs and finding the root of an issue is often a lengthy task but you stay on it to make sure that you have enough information for your colleagues to fix the bug.
A team player: You are a brilliant team player, working well with others towards a common goal. Achieving results is what matters most to you, not who gets the credit
Persistent: A game is developed over a long period of time and you will play it every day. It will be broken, unfinished and sometimes plain ugly. But you will test it every day, never losing your edge and the focus to help your team to make it the best game possible.
Stress resistant: Game development is often stressful when large workloads collide with tight schedules. The QA team has to keep a cool head when a build has to be released, balancing between the need to release a proper build and the lateness of the hour.
You will:
Become an integral part of our core QA team.
Independently test the latest developer builds and report the issues.
Communicate with other departments to understand their view and help them fix the issues more easily.
Make yourself acquainted with multiple platforms
Take over responsibility and make sure, that your reported issues are well and truly fixed.
Provide written documentation for external testing departments and help them understand our game.
Your specs:
Fluent in written and spoken English
Knowledge of either PC, Xbox One or PS4
Good writing skills
Familiarity with version management systems or bug tracking databases is a plus
Critical approach on games
If this is you, we'll be most happy to receive your CV and work samples. Attachments should not exceed 4MB in total.
Please refer to this job advertisement in your application.