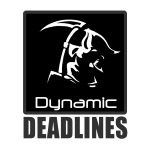 Webseite Dynamic Deadlines
For our current game UnderRaid (www.underraid.org), we are looking for an animator able to bring life to our characters. Our prototype is ready, working, and already got some public exposure. As we're a small studio, a broad set in all technical aspects of game development is appreciated.
Responsibilities:
Bring life and character into the game with animations.
Design and create interesting and readable VFX.
Work with Unity / Mechanim.
Make a lot from little – it's about consistency, not high-end quality.
Active involvement in design discussions.
Necessary Requirements:
Solid experience in Unity.
Experience in Photoshop.
German speaking highly preferred.
Nice to haves:
An eye and ability for composition and cinematography (for things like trailers and cutscenes).
Some Illustration Skills for Icons and similar stuff.
Experience in AfterEffects.
Some experience with Revision Control systems, preferably Perforce
Experience in the Unity Particle System.
We're offering:
Working on site, in our office in Darmstadt.
A small and ambitious team.
Short decision times.
Coffee.