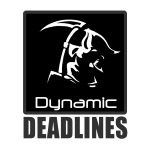 Webseite Dynamic Deadlines
For our current project UnderRaid (www.underraid.org), we're looking for someone to manage our communication and to build and manage our community. As we're a small studio, a broad skill set in all aspects of game development is appreciated.
Have a look at our game first! We'll need someone with great enthusiasm for our game and the ability to pass it on.
Responsibilities:
Plan, implement and sustain content for all relevant platforms.
Create the ground for a healthy and growing community.
Manage communication between the developers and the community.
Build up and manage our Discord server.
Necessary Requirements:
Excellent english and german in writing and speaking.
Be comfortable in front of a camera.
Basic video editing skills.
Good communication skills; handling emotional people without losing temper.
We're offering:
Huge responsibility and the opportunity to build something great.
Working on site, in our office in Darmstadt.
A small and ambitious team.
Short decision times.
Coffee.
For references, please send us a video, in english, explaining your approach to social media and the community.