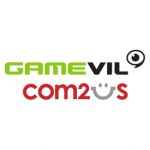 Webseite GAMEVIL COM2US Europe GmbH
GAMEVIL COM2US Europe GmbH provides localization, marketing, community management, customer support and game operations services for a wide selection of mobile games, published by our parent companies GAMEVIL and COM2US. We service all of Europe, Russia and the Middle East from our office in Berlin, Germany. Our group's headquarters is located in Seoul, South Korea, with further international offices in the USA, Japan, China and Southeast Asia.
As a major mobile gaming publisher, our portfolio is diverse: Summoners War is a top-grossing mobile RPG, consistently ranking in the top-5 grossing charts in France and Germany. Talion is a mobile MMO with top-20 success in Japan, about to launch in the West. But we also work with major international licenses and IP: Major League Baseball and NBA are our partners, we have some of the best golf and fishing games in the market and are working together with developer Slightly Mad Studios on the mobile version of PROJECT CARS. We have also partnered with Activision and are developing the upcoming Skylanders: Ring of Heroes.
We are looking for a motivated and enthusiastic individual to join our team as Game Operations Manager for the upcoming mobile MMO Talion. This is a full-time position based in Berlin, Germany, and available immediately.
Primary Responsibilities
Plan & execute all local game operations (in-game events, push messages, rewards, banners, notices etc.) across Europe, Russia and the Middle East
Oversee community management & communication with local game communities on Facebook, Instagram, VK, Discord and other relevant community channels, work closely with existing community management team to service various EU language communities
Handle customer support issues together with community managers in local languages
Report daily community feedback to game teams ("Voice of Community"), update about user trends, specific local issues and any other factors affecting
Work closely with project stakeholders, including game production and marketing teams in Europe, the U.S. and Korea, to ensure maximum performance and user satisfaction
Experience and skills required
Excellent understanding and communication skills in both English and Korean (verbal and written), other European languages (especially French, German or Russian) a big plus
Experience as game-master, community manager or live-producer within the gaming industry
Proven ability to coordinate multilingual projects, professional experience of task management
Gaming experience, familiarity with general video game terminology
Good organizational skills/people skills
Familiarity with text-heavy games, role-playing, fantasy and sports subjects
What we offer
Truly international working environment with a lot of autonomy
Flexible working hours
Competitive salary and benefit package
Fresh fruit, drinks and coffee
To apply, please send your cover letter and resume with email title "Game Operations Manager" to hr_eu@gamevilcom2us.com.
Please refer to this job advertisement in your application.