Praktikum
Beginn: 01.02.2018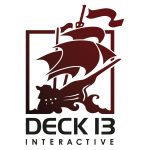 Webseite Deck13 Interactive GmbH
INTERSHIPS AT DECK13
For internships please note: We can only assign mandatory internships to students if they are required by their university (minimum mandatory time period 20 weeks). Please provide us with the exact period of time and information that it is required by your university (Praktikumsordnung).
INTERNSHIP GAME DESIGN (M/F)
Start date: 01st February 2018
You are:
passionate about game design and game development
A dedicated team player
Keen to demonstrate high ownership and responsibility in your day to day work
You will:
Become a full member of our gameplay and game design team
Design and implement sections of the gameplay experience
Design and implement a variety of different gameplay elements
Work closely with members of different departments (art, animation and tech)
Your spects:
First experience in professional game development editors or modding tools
Good technical understanding
If this is you, we'll be most happy to receive your CV and work samples. Attachments should not exceed 4MB in total.