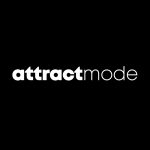 Webseite attract mode
Is it time to get your design game on? Join attract mode, the boutique digital marketing agency focused only on game industry companies as Creative Designer (f/m/d)! You'll be empowered to drive the visual style of our growing company and our international game development studios as well as our marketing.
Reporting directly to the attract mode's management board you will be given full responsibility for your art and design projects so you can unfold your talent and raise the bar for the visual style of our company.
What you'll be doing at attract mode
Set new standards in design and CI for attract mode, remote control productions, our studios and our owned games' marketing projects
Create eye-candy for our digital and classic marketing channels
Manage our creative services projects from first concept to shipping
Improve the UX of our websites and social handles
Develop and produce blazing hot game trailers and image videos
Inhale new design trends from within and outside our industry and adapt our creatives to it
Create and manage the design and art pipeline for our team
Manage our existing external vendors and providers and source new ones to ensure high production quality in photography, printing, illustration and video creation
Challenge us, challenge yourself and pitch design ideas and concepts that make a difference
What a Creative Designer at attract mode needs
True passion for games, playing actively yourself is essential
A minimum of 3 years of experience in Creative Design for entertainment brands or products
Positive, open-minded and ingenious personality
Extensive experience in creating content with the Adobe Creative Suite, especially Indesign, Photoshop and After Effects
Experience in responsive website design with HTML, Javascript, PHP
A portfolio that showcases your abilities in high-quality video production
Willingness to work in an agile team (Scrum/Kanban)
Fluency in English is a must, German a plus
Proven power of self-management and organizational skills allowing you to work independently
What we are offering
Ongoing personal coaching and opportunities to grow your skills
No corporate bullshit keeping you from implementing out-of-the-box design ideas
A diverse and international environment
A modern workplace right in the heart of Munich
Other perks are free fitness expert, games and movie library, as much coffee + soft drinks as you want and regular team events
We are looking forward to your application!
Apply here:
http://jobs.r-control.de/job/creative-designer-ama/

Please refer to this job advertisement in your application.
attract mode is part pf the rcp family.