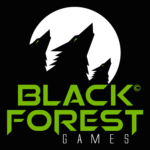 Webseite Black Forest Games GmbH
Black Forest Games GmbH, Offenburg, Germany
– Member of the THQ Nordic family –
Black Forest Games is part of the fastest growing publisher in Europe, Embracer Group, and the biggest studio of THQ Nordic Vienna. Here in the south of Germany, directly at the French border, we combine the creative freedom and culture of an independent studio with the financial security of a big publisher.
We are an international team and we foster diversity. Sharing this mindset is a must for us. We are happy about every candidate that contributes to the diversity of our team.
Narrative Designer
We are currently looking for a Narrative Designer to work on our upcoming projects. You will be responsible for all aspects of narrative design, from the initial design phase to the final polish phase. This role will have frequent communication and interaction with the story and narrative design lead, level, mission and game designers, environment artists and writers.
Responsibilities:
Writing narrative design and lore document drafts.
Setting up and maintaining the story flow and text database.
Designing, prototyping, iterating on and polishing the narrative of the in-game part of the open world including missions, enemy encounters, and other gameplay elements.
Collaborating with game, level and mission designers to ensure that the mission design contributes to the overall narrative.
Collaborating with environment artists on crafting spaces where gameplay flow and visual composition form memorable experiences that contribute to the overall narrative.
Enable writers to deliver high quality texts.
Conducting play-testing sessions and gathering feedback and action points to refine the narrative. Taking part in other play-testing sessions, providing feedback and suggestions to help fine tune and improve the narrative of the game.
Reporting Lines:
Reporting directly to the story and narrative design lead
Requirements:
2+ years' experience at a game studio working as a narrative designer or mission designer.
Experience with 3D engine game editors.
Experience with open world games.
Ability to design the plot and the lore of a mission – from the concept phase to polish and debug – through an iterative process based on playtests feedback.
Excellent communication skills & proven ability to work within a team.
Pluses:
Experience with Unreal 4 tools and blueprint system.
Experience with Articy:Draft.
Experience as a writer.
Shipped at least 1 title as a narrative or mission designer.
Examples of previous work done (writing & narrative design) are appreciated.
What else do we offer ?
Flexible working hours
28 days of holiday
Competitive salary
Green office
Stability of a successful publisher paired with creative freedom of an independent studio
and the chance to work with a great team in an open culture where your opinion and input is welcome and considered, beyond your dedicated task.
Why join Black Forest Games ?
We are a team with a long history of looking for long-term companions – we are hiring for the studio, not for the project. This is an important part of our company philosophy. Talent is always welcome, no matter where you are from. We offer a family friendly work life balance and a lot of flexibility.
Here you can work on IPs known worldwide and help shaping them.
As a bonus, Black Forest Games is located in one of the most beautiful and wealthiest areas in South of Germany, located closely to Strasbourg, Karlsruhe and Basel. Getting here is easy, because of excellent traffic conditions – 3 airports about 30 minutes away, the Autobahn and the ICE station right around the corner. All of this in a region where kids still play in the nature and drive to school by bike.
You love everything about us but you don't want to live in Germany? No problem, lots of our developers are living cross the border in Strasbourg, France and get here easily by train or car. Strasbourg is one of the biggest cities in France with 500.000 citizens.
Um sich für diesen Job zu bewerben, sende deine Unterlagen per E-Mail an jobs@bfgames.biz