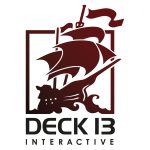 Webseite Deck13 Interactive GmbH
You are:
– Passionate about sophisticated game art
– A creative artist with a very good eye for art and design
– Capable in technical aspects of games
– A dedicated team player
– Wanting to travel and visit our partner studios from time to time
– Excited to work with a wide range of people all over the world
– Keen to demonstrate high ownership and responsibility
You will:
– Create comprehensive briefs, best practice documentation and OS packages to send to external partners, with guidance from the World Director, Art Leads and World Producer
– Provide actionable feedback and communicate this to partners at key stages of asset creation: Low poly, high poly/sculpt, material bake and final delivery phases.
– Help direct partners work on multiple asset types including but not limited to hard surface, organic, vegetation and materials, under guidance and direction from the Art Leads
– Optimize and polish assets after external delivery including UVs, baking, material and texture adjustments and optimization.
– Work with environment artists to ensure whitebox models, reference images and concept art is provided for all OS work with external partners.
– Maintain consistent style under the direction of the World Director and Art Lead
– Support World Producer and Art Leads in planning and scheduling of external partners.
– Create high quality models and materials when needed as well as kit bashing assets from existing models/materials.
Your specs:
– Have intricate knowledge of art tools and best practices for building environments including Maya, Substance Designer, Photoshop, and Zbrush
– Thorough understanding of current artistic/technical requirements for video game production pipelines.
– Eye for core artistic principles including color, composition, proportions and perspective.
– Excellent communication, organizational and problem-solving skills.
– Optional: Prior outsourcing experience
– Optional: Degree in art/design studies