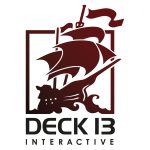 Webseite Deck13 Interactive GmbH
INTERSHIPS AT DECK13
For internships please note: We can only assign internships to students AND if the internship is required by the students university (minimum mandatory time period 18 weeks). Please provide us with the exact period of time and information that it is required by your university (Praktikumsordnung).
INTERNSHIP CHARACTER CONCEPT ART (M/F/D)
Start date. expected September 2019 – please be patient with submitting your application. The start date will be settled internally soon.

Requirements:
Passionate about sophisticated game art
A very good eye for art and design
In depth knowledge in concept art for games
Advanced experience regarding 2D character sketches and artworks
Excellent reference material regarding regarding sketches and artworks
Keen to demonstrate high ownership and responsibility
If this is you, we'll be most happy to receive your CV and work samples. Attachments should not exceed 4MB in total.
Please refer to this job advertisement in your application.