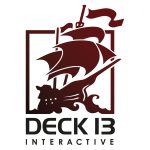 Webseite Deck13 Interactive GmbH
GENERALIST/ENGINE PROGRAMMER (M/F/D)
Start date: immediately

You are:
An engine geek: You prefer creating advanced technology by yourself rather than using predefined black boxes you do not have full control over
Experienced: You have no problem finding your way around large codebases, and every issue you encounter is just another opportunity for you to improve what's there
A problem solver: You know a problem when you see one, and you also know that if you put on your blindfold, the problem will come back later and bite you and your fellow developers in the rear right before the next milestone's deadline. So you get in there, look past the obvious solutions, dig deeper and get it out of the way
Passionate for developing core tech: pushing boundaries is your thing, and you love taking and overcoming challenges, even if you know resources are limited
Self-managing: You collaborate with the team to potentially own any part of the project from design to implementation
Educated: your Bachelors or Master's degree in Computer Science or a related tech field has a few scratches on it from where you've put it to use
A team player: you are a brilliant team player, working well with others towards a common goal. Achieving results is what matters most to you, not who gets the credit
Keen on writing simple, data oriented code that is easy to read, easy to debug, easy to maintain and easy to optimize
You will:
Become an integral part of our small core tech team
Dig deep into the codebase of our tech to improve existing systems
Design and implement new features and systems from scratch for multiple, unannounced projects for PC and consoles
Promote a culture of innovation that shares technological wisdom effectively and responsibly with other members of the tech team
Your specs:
C++, Qt, Python, Git, Perforce, SVN, Strong 3D Math
If this is you, we'll be most happy to receive your CV and work samples. Attachments should not exceed 4MB in total.
Please refer to this job advertisement in your application.