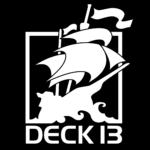 Webseite Deck13 Interactive GmbH
Responsibilities:
-Passion for creating compelling characters and creatures concepts that hit the heart of our project's visual style.
-Work closely with the Art Director and Lead Character Artist to establish visual guidelines, style documentation and art briefs.
-Be excited to deep dive into design in its all forms, bringing life and logic to the characters you create.
-Live for the ideation and brainstorming phase – collaborating with a wide range of creative disciplines.
-Excellent 2D drawing skills with a strong grasp of composition, color theory, gesture, lighting, anatomy and form.
-Be an active part of a positive and constructive feedback culture. Welcoming artistic feedback from leads and colleagues.
-Be open to taking a mentoring position, supporting the growth of junior artists with the Character department.
Requirements:
-5 years experience as a Concept Artist with a focus on character art.
-At least 1 – 2 shipped AAA or AA titles as a Concept Artist (or relative experience).
-Advanced knowledge of Photoshop (or other 2D drawing software).
-A comprehensive portfolio showcases a variety of not only fully rendered photorealistic and stylised characters but the road to your finished concept (sketches, designs, etc).
-Bonus; Knowledge of Zbrush (or other 3D sculpting software).