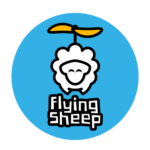 Webseite Flying Sheep Studios GmbH
ABOUT FLYING SHEEP STUDIOS
We craft truly frictionless games for the metaverse.
Flying Sheep Studios is a game company of 20 people with great ambitions that has already shipped over 200 crossplatform webgames. Since joining the iCandy group, we have been focussing on building social virtual worlds to contribute to the Metaverse.
Even though we have an office located in the Cologne Game Haus, right in front of the Gamescom location, our team may work remotely from anywhere in Germany.
We have built our company culture based on the following beliefs:
Diversity is the key to more creativity and better problem solving. Our team is currently composed of people of 6 nationalities and over one third female team members. Our company language is English. If we enjoy ourselves while making our games, this will translate into more fun games for our players. So we make sure to keep a harmonic atmosphere, and have regular voluntary team events (LAN parties, board game nights, karaoke etc…)
Continuous improvement of our processes enables us to deliver games without unnecessary stress. We are never satisfied with the status quo, therefore we use every opportunity to learn and improve our skills and processes, to enable us to meet all deadlines without having to crunch.
This is important for our last point because…
… we believe that a healthy work-life balance is essential for an enjoyable work environment. Not only have we been able to avoid crunch completely for the 8 years of our existence. We also offer flexible working time, flexible working place (Cologne office or anywhere else), and overtime is compensated in free-time.
If these values fit your own expectations of a desirable workplace, then here is your chance to join our team!
TASKS
• Manage marketing strategies for our metaverse game from launch planning to execution
• Plan and implement the marketing actions
• Build, grow and manage the community
• Leverage the relevant social media channels
• Ensure coverage of the game in the media
• Work closely with the marketing team at our parent companyiCandy
• Coordinate closely with the game design team at Flying Sheep to create games and gamified experiences to reinforce the strategy
YOUR PROFILE
• 5 + years of experience in marketing or community management (or equivalent experience)
• Sharp eye for core audiences and initiatives to reach out to
• Strong project management, multitasking, and decision-making skills
• Metrics-driven marketing mind with an eye for creativity
• Excellent written and verbal communication skills in English
• Living in Germany or willing to relocate there
NICE TO HAVE
• Curious about Web 3 technologies, Metaverse & NFTs
• Passionate about fashion
• Experience with game design
• Cozy / casual game enthusiast
• Experience playing MMORPGs and being part of guilds/clans
• Understanding for the topics of diversity & inclusion
• Skills in any other language
WE OFFER YOU
• Work from our Cologne office or remotely in Germany
• Very flexible working hours
• Perks like 30+3 days of holidays, training and conference budgets etc…
• Work with cutting edge web and blockchain technologies
• Grow together with an ambitious game studio
• Play an important part in shaping the future of the metaverse
INTERESTED?
If you want to join us, send your application documents (cover letter & resume as PDF), portfolio, possible start date and desired salary to Marta at jobs@flying-sheep.com