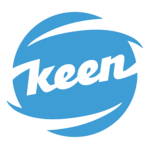 Webseite Keen Games
Join a team of super dedicated developers!
Keen Games is an independent developer with a long history of developing games for PC, consoles, handhelds and mobile. Working at Keen Games means working with super experienced, passionate and humble people. We are ambitious and want to define the creative sandbox genre.
We believe in kindness, acceptance, support, and hard work. We also believe in having lots of fun.
We value your personality and passion.
For us, personality and passion comes before education. You'll always be supported and looked after by your Keen Games family, but you will also have a lot of responsibility for your own work, meaning that working independently isn't something you mind.
As a Level Designer, you will be part of our experienced design team. You will design, build and maintain level content from concept to final game quality in collaboration with game design and other departments. You will maintain ownership of your creations and will be responsible for collecting internal and external feedback through play- and focus group testing, iterate and improve the game world to achieve the best gameplay experience for our players. As a challenging project shifts and matures, let's learn and grow together in order to deliver the best product for our players.
As a Level Designer at Keen Games you will be offered:
The opportunity to work within a highly experienced & creative team
A competitive fixed salary
Development opportunities
Paid vacation days
Health care and benefits
A lot of events & parties
If this sounds like you, then what are you waiting for !?