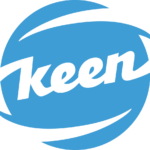 Webseite Keen Games GmbH
Join a team of super dedicated people!
Keen Games is an independent developer with a long history of developing games for PC, consoles, handhelds and mobile. Working at Keen Games means working with super experienced, passionate and humble people. We are ambitious and want to define the survival action RPG genre.
For the first time ever, Keen is building a team to self-publish our next title. Get in on the ground floor and help us build this team!
We believe in kindness, acceptance, support, and hard work. We also believe in having lots of fun.
We value your personality and passion.
For us, personality and passion comes before education. You'll always be supported by your Keen Games family, but you have a lot of responsibility for your own work, meaning working independently is something you are used to.
As a Senior Customer Support Manager, you will create & champion from the ground-up all aspects of Customer Support. You'll be speaking directly to the people who matter most, our players. We see our community as an integral part of our team, and their voice helps us shape and create the games everyone wants to play.
Your key responsibilities are to become a product expert and drive all efforts related to customer support. Your passion for video games and experience in this industry allows you to understand what it takes to create an amazing customer support experience. You fully understand the player experience is always our top priority, and you will proactively take ownership on all action required to reach that goal. You understand that you will work closely with many people in both the publishing and production team in order to report, follow and address any new issues or challenges we may face when it comes to customer support.
You are able to create from the ground up all customer support processes, educate and debate with your colleagues the pros/cons on your approach. You are able to evaluate the performance and quality of your own work and any internal and/or external collaborators. You will closely collaborate with our Q&A team to help identify, report and resolve game bugs. You are able to create and maintain an efficient F.A.Q. You will monitor and maintain the CS KPIs and SLAs and be the force behind identifying and drive any action required to maintain our quality and performance standards. Your communication skills are excellent, and you feel comfortable when required/possible to work and assist with community tasks on various platforms (Facebook, Twitter etc.) Strong communication skills in English are a must, fluency in any additional language is a plus.
This position can be fully remote (occasional trip may be required), hybrid or full time office in Frankfurt.
The right candidate would start in Q4/2022.
As a Senior Customer Support Manager at Keen Games you will be offered:
The opportunity to work within a highly experienced & creative team
A competitive fixed salary
Development opportunities
Paid vacation days
Health care and benefits
A lot of events & parties
If this sounds like you, then what are you waiting for !?
Keen is committed to diversity and inclusion and we encourage candidates from diverse backgrounds to apply. We are also committed to sustainability and reducing our carbon footprint, which is why we are a founding member of Gamesforest Club.