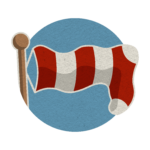 Webseite Studio Windsocke
Part-time (remote): 01.01.2023 – 31.09.2023
2D Character Animator & Artist  (m/f/d)
For the final production phase of our award-winning survival and platforming game Passing By – A Tailwind Journey, we are looking for a character animator and 2D artist.
Your responsibilities:
Create character animations in Unity Engine
Create environment animations in Unity Engine
Produce 2D assets in Unity Engine
Your profile:
Experience in working with Unity Engine (focus on animation)
Experience in working with Git and Sourcetree is a bonus but not necessary
Experience from having worked on previous games
Self-reliance and the ability to work independently as well as teamwork and communication skills
A well-equipped home office (you will need your own equipment and hardware)
Excellent command of English or German
Residency in Germany required
What we offer:
Fixed-term employment contract
Fixed salary (~1700€ monthly)
20 h per week remote work
Flexible working hours (flexitime)
About us & the project:
Passing By – A Tailwind Journey has been in the making since the end of 2018, when we were working on the first prototypes of the game at university. In 2021, the game was awarded the German Computer Games Awards (DCP) and the German Developer Awards (DEP) in the young talent category. Currently, we are in the final production phase and plan to release the game in 2023.
Passing By – A Tailwind Journey allows players to board a balloon ship and explore a colourful world of floating islands. They befriend fellow travellers and quirky islanders, must use their wits to solve immersive puzzles, and gather enough resources to continue to wherever the journey takes them.
Curious about Passing By? Then please send your portfolio and application to  studio-windsocke@posteo.de! We are looking forward to hearing from you!
https://linktr.ee/studiowindsocke
Twitter & Instagram: @StudioWindsocke